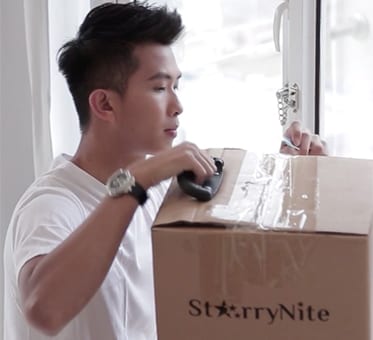 While most online mattresses-in-a-box are made of foam, StarryNite is one of the few companies that offers mattresses-in-a-box made of spring.
This, of course, is not to say that our mattresses-in-a-box are superior, albeit we like to think so.
The truth of the matter is, each mattress type has its own pros and cons.
In order to know what works best for you then, you have to understand the difference between the two.
So, let's get underway then, shall we?
What's the fuss about motion isolation or zero partner disturbance anyway?
If you've been researching about which online mattresses to buy for a while now, you've probably come across foam beds with feature known as "motion isolation" or "zero partner disturbance".
Don't ring a bell? Just picture a person doing a backflip on a foam mattress with a glass of wine on the same bed.
The point to make was that the glass of wine did not spill a single drop even after the backflip was successfully executed. This is what's being called as "motion isolation" or "zero partner disturbance".
In other words, any movements on your side of the bed will not affect your partner's or vice versa, as the bed is equipped with this so-called unique feature.
So far so good.
But is this feature really unique though? That's what we would like you to challenge today.
Hate to break it to you, but this "motion isolation" is not the result of any unique feature, as many companies would have you believe.
As to what it is, it is nothing more than just what you would usually get outright with a foam mattress.
Yes, that's right. This means there are certain benefits you inherently get with foam beds, as you would with spring beds.
Therefore, what you choose should be governed by the mattress type, materials used, and what is comfortable for you, but not what's trending, what you see advertised, or the price tag.
So, what do you get with spring mattresses-in-a-box then?
Straight up, spring mattresses-in-a-box do not have total motion isolation, as some bounce is to be expected.
Does that mean spring beds are bad?
Of course not, as bounce is better for sex, period.
Bounce also varies from a little to a lot. If you would like a nice, mellow bounce, look for mattresses with pocket coils, like our MIB here.
Additionally, they are also better at contouring and pressure relief than open coils.
Speaking about pressure relief, both spring and foam beds-in-a-box offer them, but it's usually foam beds that are better at this.
This may give you the impression that foam beds are more comfortable, but a bed's comfort has got to do with more than just pressure relief.
Yes, let us repeat this: It's more than just pressure relief that contributes to a bed's comfort.
What contributes to a bed's comfort then?
Besides providing pressure relief, a bed that's worth its salt has also got to offer spinal support, contouring (which is the way the mattress conforms to your body) and breathability.
Essentially, this means that it takes more than just first impressions to know if a mattress is going to work for you.
This is why the generous trial period offered by most online mattress companies, including ours, is a welcome step forward.
(We recommend that you sleep on your StarryNite mattress for at least 30 days. By doing so, it will allow your body to adjust to the new mattress.)
Moving on to the topic of spinal support, both foam and spring beds, again, offer them.
The source of where it comes from though is different. For foam beds, it is primarily from the support foam layer. Whereas for spring beds, it is primarily from the support spring layer.
A bed that offers good spinal support will not only contribute to your comfort but to your health as well.
This is because it, like the name implies, is designed to protect your back while you sleep.
So, the obvious question next will be does layers of foam work better in this area or grids of springs?
Well, we let you be the judge.
What is contouring?
Contouring is the way the mattress adapts and responds to your body.
Because your body consists of many parts, each requiring varying levels of support, a bed that can respond well to it will well, be more comfortable.
Foam beds usually take a moment to respond to the body, whereas spring beds usually take shape immediately.
Just think about it: When you get up from a foam bed, the bed will revert back to its original shape. This means every time when you lie on it, it will also take a moment to mould to your body.

With foam mattresses, it also harder to move around on them.
In fact, this is one of the common dissatisfaction with foam beds, where they can some time make you feel as if you're stuck in foam.
Subsequently, getting out of a bed is also usually harder on a foam than innerspring bed due to the poor edge support offered by the former.
Let's talk about mattress breathability
A mattress breathability refers to how well the materials in a mattress allow air to circulate and stay cool.
The better a mattress is able to regulate temperature, the better it is to stay cool then.
We guess we don't have to tell you which mattress type is better here, as the materials themselves will give you a good indication.
Put simply, foam beds are notorious for trapping heat.
That's because of the dense memory foam structure itself, where it don't allow much air to circulate.
As to why it is dense, that's because it has to be that way; otherwise, it won't be sturdy enough to support your body.
That said, all it not lost for foam beds in this area, as some out-of-the-box companies do incorporate materials with varying levels of heat transfer—such as those with air channels or gel.
Of course, this will also be reflected in the mattress cost, where you indeed have to pay a higher price to get this feature.
Summing it up
As we can see, there is no one mattress type that is clearly superior than the other.
Some will perform better in one area, while some will perform better in others.
What's most important for you is that you understand how everything works so that you can make an informed, educated decision on what will work best for you.
The keyword here is what works for you.
Because everyone sleeps differently, has different budget requirements, and different personal preferences; there is quite frankly no one mattress that works for everyone.
Which is why we encourage you to take advantage of our 100-night trial, free delivery, and 10-year warranty before anything else.
Most importantly, do not settle until you've found the mattress that you are truly happy with.
(Thanks for reading, and have a fantastic day ahead.)